Primer día de fotos en BCN:
A pocos minutos de casa está el mirador de Monjuic. Un maravilloso monte donde puedes hacer picnic con hermosas vistas de todo Barcelona. Es un sitio muy turístico y tiene desde restaurantes hasta museos. Ah y un teleférico que cruza la ciudad.
Mi esposo volvió a tomar la batuta de la producción y cámara, así que hicimos las fotos que ven y espero les hayan gustado.
Apenas terminamos agarramos la moto con dirección a Plaçá Catalunya donde estaban los "Indignats" - Indignados y me encontré con sorpresas que ya les iré contando.
Tuve oportunidad de tomar fotos a mucha gente fashion y a las
vitrinas de las tiendas.
Mis tiendas favoritas al momento son:
1.- Zara (color blockin, cuadros, snake print y blazer de todos los modelos y colores)
2.- H&M (nude, flores bordadas, scalloped shorts, transparencias, colores tierra)
3.- Breshka (fiesta, minivestiditos, floppy hats, taconazos, lentejuelas)
Ayer regresando de cenar nos cayó una lluvia que no se imaginan. Delicioso, lluvia de verano fuerte y fresca, imposible no salir empapado… me divertí mucho.
My first semi-oficial pics in Montjuic, Barcelona. I gotta say that I had a really wonderful time enjoying the views and the weather which was almost 30 C.
It was not hard to find a pleasant and comfortable place to take some good "pics" of my first look in here, there are no "morons" who just bother you for fun or thieves who want to still you camera.
The sun was shining and the sky as blue as the Mediterranean see.
My husband took the lead again like old times, we really enjoy that moment together.
"Photoshootin"g haven't took a lot so we run to the center to do some shopping and have some nice lunch.
I have taken some "pics" of the shops to be able to show you how is it here.
At the moment my favorite stores are:
1 .- Zara
2 .- H & M
I will show you some of my new stuff in my next pictures ok?.
I´m having so much fun!
Thanks for reading :D
Xoxo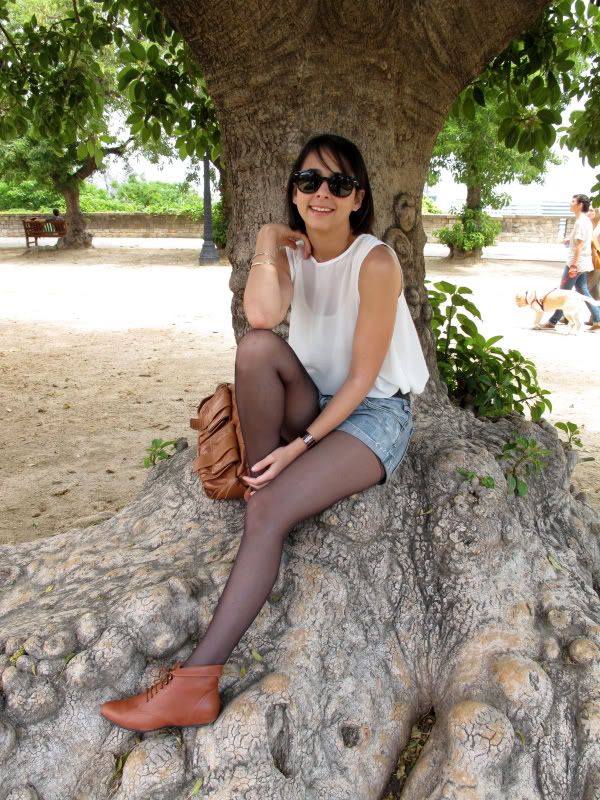 TELEFÉRICO DE MONTJUIC - BARCELONA
Esta "CLARITA" mezcla de fanta limón con cerveza me la tomé en nombre de Jeane de Estilozas Blog....amiga te prometo llevarte una de botella que también esta muy buena :D
DENLE CLICK PARA VER EL VIDEO
SHORTS: EXPRESS (ex jeans)
BLUSA/BLOUSE: EL CLOSET DE MI HERMANA
LENTES DE SOL/SUNNIES: RAYBAN
BOLSO CUERO/LEATHER BAG: PALOMA DIBOS
CORREA/SCALLOPED LEATHER BELT: GAP (old)