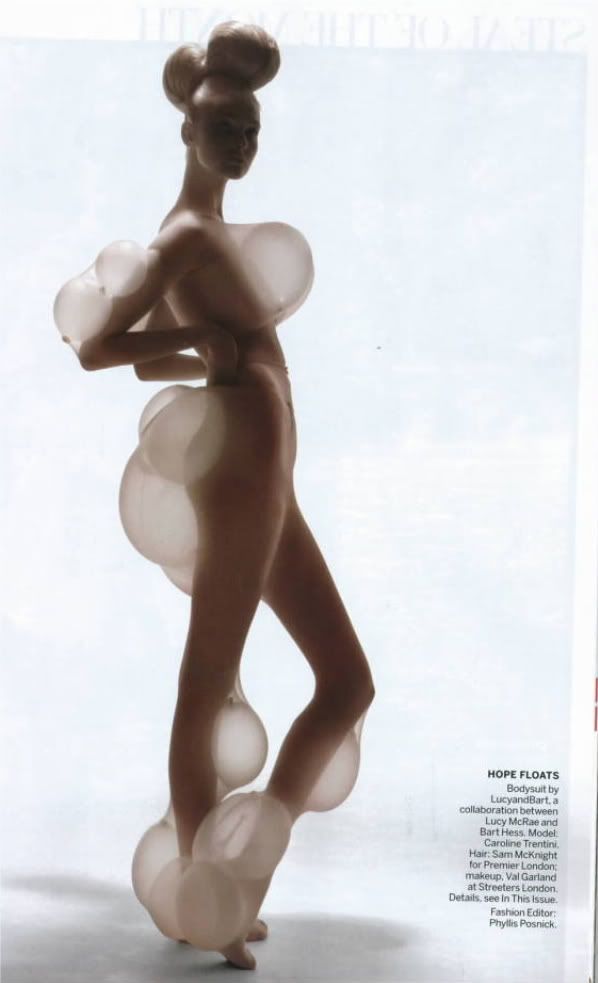 "Once the secret behind sculpted cheekbones and crease-free eyes, filter is now injecting youth into the aging body..." Photo by: Nick Knight. Sourse Vogue US Sept issue.
Detrás del secreto de los pómulos esculpidos y los ojos libres de pliegues, el "filtro" está inyectando juventud a los cuerpos "maduros". Fotos por Nick Knight para Vogue US Sept Issue.
De toda la revista, la cual ya tengo "scaneadasa" para irles pasando página por página y así puedan disfrutarla tanto como yo. Esta foto fue la que más llamó mi atención... díganme si no es impactante más no exagerada?. Yo creo que esta foto dice mucho. Aunque estoy completamente de acuerdo con la cirugía estética (hasta ahora no me he hecho ninguna pero créanme, ganas no me faltan). Sin embargo, creo que hay un límite entre la cirugía cuando es realmente necesaria a cuando es exagerada, de hecho si prendemos la TV por un momento (sobre todo si dejaste de ver a modelos o celebridades por 5 años y luego te las encuentras completamente "reencauchadas") verás como una cirugía mal hecha o hecha antes de lo que debería puede cambiarte el rostro de por vida...
Que opinan ustedes?
Source: Vogue US Sep Issue